Joan Booker Abbott Gay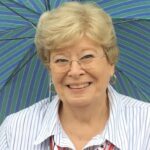 On Friday, June 23, Joan Gay, widow of Dick Gay and mother of two, passed away at the age of 84.
Joan was born in Baltimore, MD to John and Sidney Abbott. In October 1959, she married Richard "Dick" Gay in Baltimore, MD. They raised their daughter, Dee and son, Rick, instilling a love for all things water related. Joan loved boating and lived onboard boats for many years of her life both on the Chesapeake Bay and in Florida. Besides being a gracious homemaker, Joan was a skilled administrative assistant working for notable businesses in Baltimore, Harford County, MD and Florida. She was an active participant in various yacht club committees and social groups. She had a beautiful singing voice and many talents from charcoal, chalk, and watercolor drawing; a keen eye for decorating and design, especially boat interiors and most recently crafting seashell artworks. Joan will always be remembered for her desire to make other people happy and sharing God's love to everyone she encountered until the day she passed.
Joan was preceded in death by her husband, Dick. She is survived by Dee and her husband Jim; Rick and his wife Toni; and her grandchildren Kellie, Jamie, Jeff, Mick and Brendan. She also leaves behind her great grandchildren, Brynn, Bryker, and Zachary.
A Memorial Mass will be held on July 22, 2023, 11:00 am at the Olde Yorke Chapel on the Coast Guard Training Center, Yorktown. For people who do not have a Common Access Card or retiree card to get on base, please contact Rick at OldeYorkeChapel@nullgmail.com. Donations to the Chesapeake Bay Foundation, in lieu of flowers, are appreciated and may be provided www.cbf.org.