Jo Anna McCracken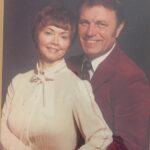 Windsor, VA – Jo Anna McCracken, 81, passed away on Thursday, April 16, 2020. Jo was a native of Rainelle, West Virginia and a peninsula resident since 1944. She was a former member of West Hampton Baptist Church and was a member of First Baptist Church of Suffolk. She was former employed with First National Band and worked at Fort Monroe for many years.
She is survived by her husband of 38 years Donald McCracken and daughters, Cynthia Hodge (Leon) and Sharon Gandee (Gaven) a sister Doris Jamison and brothers, David Summerfield (Barbara), George Summerfield (Patricia), Dallas (Karen ) and Bob Summerfield (Jeanne) 3 step children, Jed McCracken, Curt McCracken and Melissa Bent. She is also survived by her grandchildren, Bradley Harris (Laura), Rebecca Harris and Hollis Smith a great grandchild Dallon.
A private graveside service will be held on Tuesday. Arrangements by Amory Funeral Home Yorktown, Va.