Jimmie Lee Reaves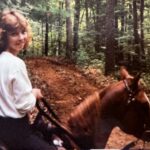 Jimmie was born on August 30, 1962, in Fort Bragg, North Carolina, to Clyde H. and Helen (Reaves) DeWitt. She spent her childhood in Dillon, South Carolina, and graduated from Berlin American High School. Jimmie worked in the construction industry and was a very talented finish carpenter. She loved restoring old houses to their original beauty. Jimmie loved antique furniture, and had a nice collection in her home. She also had a deep passion for horses (especially Arabians) to include riding, showing, training, trail riding, and just loving the bond with them. She fell in love with horses when her grandfather introduced them to her when she was a little girl and that love never dwindled. Jimmie was a very loving soul and never met a stranger, had the talent to strike up a conversation with anyone about anything -and would always take time to talk about horses, dogs, carpentry, and anything native American.
Jimmie is survived by her father, Clyde H. DeWitt, Jr., and stepmom, Judi A. DeWitt, both of Yellow Spring, West Virginia; son, Patrick Bearfield II of Grand Junction; granddaughter, Piper Lee Bearfield of Grand Junction; sister, Johnna H. (Jeff) Kirk of Culpeper, Virginia; niece, Heather Jenkins of Culpeper, Virginia; nephews, Ryan Kirk and Kody Kirk, both of Culpeper, Virginia; and many more loved ones and friends. She is preceded in death by her mother, Helen Reaves DeWitt; and grandparents, Clyde and Cora DeWitt, and John and Marguerite Reaves.
Her family will have a private celebration of her life.
Fond memories and expressions of sympathy may be shared at www.MartinMortuary.com for the Reaves family.