Jeffrey Keith Collier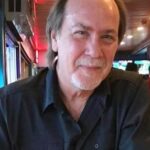 It is with profound sadness that we share the heartbreaking news that Jeff Collier, proud father of Morgan and Steven, passed away at his home in Seaford on July 18, 2022.
Jeff was born in Newport News to Richard and Lucy Collier on December 1, 1959. Jeff was a talented machinist, musician, and small engine repairman. He was employed by Siemens (later Continental) from 1989 until health problems forced him to retire early. Jeff was a firm believer that the closest you could get to God on earth was in nature. He loved the outdoors, fishing, Native American spirituality, and Southern Rock.
Jeff was preceded in death by his parents, Dick and Lucy, and his oldest daughter, Amber. Jeff is survived by his children, Morgan and Steven, his beloved feline buddy, Harley, his brother, Ricky, best friend Larry Carraway, and many other special, caring friends and relatives, way too numerous to mention.
Please remember Jeff as he was when he was at his best. No services are planned, as Jeff did not want a funeral. Sit outside around a fire some evening, have a drink or 3, and crank up some Skynyrd. He will be right there with you in spirit.
The family will receive friends on Wednesday, July 27, from 6-7 PM in Amory Funeral Home.