Jeffrey Allen McDonald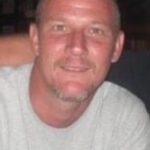 Newport News – Jeffrey Allen McDonald, 48, of Newport News, Virginia, born August 21st, 1974, passed suddenly at home on July 5th, 2023.
He is preceded in death by his father Gerald McDonald Sr., "Granny" Elisabeth Martinez, "Mama and Papa" Martha and Lester McDonald, and aunt Rosie Vick. He is survived by his mother Hilde McDonald, brothers Gerald McDonald Jr., (Moire Collins), Richard McDonald, sisters Cindy Branim, Debbie McDonald, Kim Annette, nephew Sean Adams, niece Rylie McDonald, uncle Klaus Martinez, aunt Patsy Mikeish, and cousins Michelle and Wayne Vick, Mike Martin and Bobby Elliott, who were more like siblings than cousins.
Jeff was a graduate of Denbigh High School, class of 1992 where he played flag football for the Denbigh Dogs and several other sports. He was employed at Riverside Paper Supply. He leaves behind many friends whom he loved dearly. He never met a stranger and was always the life of the party. Jeff always had a big smile and an even bigger heart.
His many passions and loves include UNC Tar Heels basketball, Notre Dame college football, the Washington Commanders, karaoke, which you could find him doing on any given Friday or Saturday night, and his dachshund Lucy. Although, his biggest love of all was his niece Rylie, whom he was extremely proud of.
Jeff has left us way too soon but he will never be forgotten. A memorial for Jeff will be held on Saturday, July 22nd at Amory Funeral Home, 410 Grafton Drive, Yorktown Virginia at 11:00 A.M followed by a gathering at AJ's Sports Grille and Smoke House, 14346 Warwick Boulevard, Newport News, Virginia.