Jeffrey Alan Miller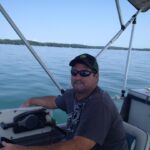 Yorktown – Jeffrey Alan Miller passed away on Tuesday, January 28th, 2020. Jeff was from Linesville, PA and preceded in death by his parents Milford and Harriet Miller.
Jeff was a General Superintendent who loved his job and the people he worked with. He took pride in his job and helping people succeed. He enjoyed 4 wheeling in the mountains with his son, going to movies with his daughter and vacationing. His legacy was a loving and devoted husband and father. He was a hard worker who took pride in taking care of his family.
Left to cherish his memory is his wife of 26 years Tina Miller, his son Nick Miller , his daughter Jessica Miller, brothers Scott and Roy Miller, sisters Jacque Morelli, Sue Shirk and Anita Denham. Multiple nieces and nephews who loved him.
A memorial service will be held on Thursday, February 6 at 2:00 at Amory Funeral Home.