Jeanne Virginia Loughrey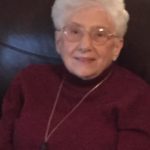 Newport News, Va. – Jeanne Virginia Loughrey, 89, passed away on Monday, December 2, 2019.
She was a loving and devoted wife, mother, grandmother and great-grandmother. All were priorities in her life. Her son Chris always referred to her as the "Back Bone" of our family.
She is survived by her daughter, Donna Lynn Henry and her husband Allen Neil Henry of Newport News VA; a son, Christopher Paul Loughrey and his wife Terry Elaine of Savannah, GA; granddaughter , Casey Lee Nance and her husband Jeffery of Yorktown, VA; and 2 great grandchildren, Madelyn and Carter Nance of Yorktown, VA.
Services will be private.
In lieu of flowers, memorial donations may be made to Medi Hospice 530 Independence Parkway Ste. 200 Chesapeake, Va. 23320 in memory of Jeanne Loughery.
Local Arrangements by Amory Funeral Home, Grafton.