Jean M. Yokum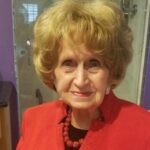 On Thursday, August 19, 2021, God called home Norma Jean Mace Yokum (Jean Yokum). Jean was born in Valley Head, West Virginia, on March 8, 1931, to Iva and Bud Mace. She married the love of her life, Charles O. Yokum, (Chuck), in July of 1948. She worked as a bookkeeper in Chuck's father's general store before she and Chuck moved to Poquoson, Virginia, when he was drafted in the Korean War and stationed at Langley Air Force Base. Jean's husband, parents, 3 brothers and 2 sisters predeceased her.
In 1953, Jean was hired as a teller at Langley Federal Credit Union (LFCU) in Hampton, Virginia. She took on the role of assistant bookkeeper before becoming the director of accounting and after completing a 3-year course through the Credit Union Business School, she served as assistant manager and in 1979 was appointed President and CEO. During Jean's tenure, the financial institution's assets grew from $76M in 1979 to $1.6B in 2011. The National Association of Federal Credit Unions named her Credit Union Professional of the Year in 1983. Jean served on many boards across Hampton Roads. She served on the Board of the Defense Credit Union Council (DCUC) for 20 years and was its chair. In 2009, Jean was named the CEO of the Year by the National Association of Federal Credit Unions. She received the Virginia Credit Union League's James P. Kirsch Lifetime Achievement Award in 2010. Jean retired in 2012 after 58 years with LFCU and was also inducted in the DCUC Hall of Honor in 2013. She was a force to be reckoned with in the financial world and loved serving the members at the credit union, but her real passion was her family. Jean loved her grandkids, Trevor and Miranda, and enjoyed their Friday night sleepovers and trips to Toys R Us when they were little. She had a strong faith and was a member of Trinity United Methodist Church in Poquoson, Virginia, for over 50 years and served the church in various roles.
Jean is survived by her son and daughter-in-law, Randy and Sherri Yokum and her grandchildren, Trevor (Alex), and Miranda, of Yorktown, Virginia. She is also survived by a niece and two nephews. The family would like to send their heartfelt gratitude out to Intrepid Hospice and Home Helpers, Inc, caregivers, especially, Shayna, Marie, and Elisabeth. Others who hold a special place in the family's hearts for the compassionate care giving, love, and friendship they provided to Jean are Sharon, Wendy, Barbara, Sandra, Cindy, Susan, Jan, and Amy. The family will never be the same without their Matriarch.
There will be a celebration of Jean's life at Trinity United Methodist Church, 1294 Poquoson Avenue, Poquoson, VA, 23662, on Saturday, August 21, at 3 p.m. In lieu of flowers, please consider making a donation to the Alzheimer's Association at act.alz.org or to a charity of your choice. Arrangements by Amory Funeral Home, Grafton, Va.