Jean Ann Kann Gross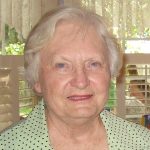 Jean Ann Gross, 88, passed away peacefully on Friday, March 1, 2019. She was born on May 23, 1930 to Emil and Jeannett Kann in Chicago, Il. Jean worked as a Library Assistant at Linn-Mar Junior High School in Marion, Iowa. She loved life, decorating, gardening and her Iowa Hawkeye football. But, most of all she loved being a wife, mother, grandmother and great grandmother – family was everything to her!
She was preceded in death by her parents; her loving husband, Richard John Gross; her sister, Susan Jacobson; and son-in-law, Richard Wright.
Jean is survived by her sister, Grace Stih; three children, Nancy Wright, Thomas Gross (Therese) and David Gross (Marguerite); seven grandchildren; four great grandchildren (soon to be five); and many nieces, nephews and cousins.
Our mother, Jean, lived a beautiful life and set the example. She is greatly missed.
A funeral service will be held 3:00pm Thursday, March 7, 2019 at Brown-Wynne Funeral Home, 200 SE Maynard Rd, Cary, NC 27511. The family will receive friends at the funeral home prior to the service from 2:00-3:00pm. A graveside service will be held 12:00 noon Friday, March 8, 2019 at Albert G. Horton Jr. Memorial Veterans Cemetery, 5310 Milners Road, Suffolk, VA 23434.
In lieu of flowers, donations may be made to the Alzheimer's Association.