Janet McMahon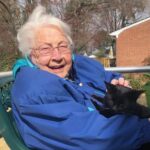 Janet L. McMahon , 89, passed away on Wednesday, January 6,2021 at home due to Covid-19. She was a long time resident of Yorktown, Virginia.
Janet was predeceased by her husband Martin F. McMahon. She is survived by five daughters, Laura Olson (Bob), Eileen Bishop (Kenneth), Leslie Baker (David),Dorothy McMahon and Patricia Bailey (John). Grandchildren include Eric and Ryan Olson, Jennifer and Miles Bishop, Lauren and Spencer Bailey.
A graveside service will be held at a later date.