Janet B. Laughery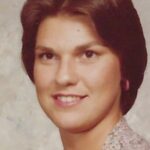 Janet Black Sechriest Laughery, 76, mother, wife, and now angel in heaven is looking over her children, Sandra L. Sechriest, Larry Gene Laughery Jr. (Julie), Robin Deyton (John), Dawn M. Jensen (Steve), six grandkids, Jason, Tiffany, Cory, Kyle, Allie, Rockie, and two great-grandkids, J.P. and Gabbie, and one sister, Nancy Grey, living in Tampa, Florida.
While shopping at Haynes Furniture, she met the love of her life in 1978. She married Larry Gene Laughery Sr. in 1983 and became a housewife.
Janet grew up in Hampton, Virginia and went to Hampton High School. In the 12th grade, she was transferred to Kecoughtan High School for her senior year.
Janet was preceded in death by her parents, George and Erma Black, four brothers, Owen, Charles, Bill, and Jimmy, two grandsons, Cory and Kyle Jensen, and her first husband, Clarence Mac Sechriest.
A memorial service honoring Janet's life will be held at 11:00 A.M. on Saturday July 1st, 2023. Dress is casual at Amory Funeral Home, 410 Grafton Drive, Grafton, Virginia, 23692, (757) 898-5722.
In lieu of flowers, please consider a donation to Alzheimer's disease Research (2251 Gateway Center Drive, Clarksburg, MD, 20871) or St. Jude, Skinner's Hospital, Janet's favorite Humane Society.
Special thanks to aid Barbara and nurse Kathryn who helped Janet her last six months of life and the whole crew at Amedisys Hospice Care Team of Williamsburg, Virginia.