James Woodson Collier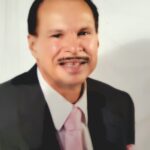 Yorktown, Va. – James Woodson Collier, 74, passed away on Monday April 18, 2022. James was a native of Virginia and lifelong peninsula resident. He retired from Powers Business Supply as a copier/typewriter repairman. James was active in local youth sports as umpire and referee for many years. He was very active with greyhound rescue. He loved cruzing and taken the family on vacations to Margaretville.
He was preceded in death by his sister Carol Jesse and is survived by his wife Brenda Wilson a brother Clifford Collier and daughters, Heather, Angel and Janice. and the apple to his eye granddaughter Presley-Faith.
A graveside service will be held on Sunday April 24, 2022 at 1:00 PM in Rosewell Memorial Gardens, Gloucester, VA. Arrangements by Amory Funeral Home, Grafton, VA.