James Moye Clark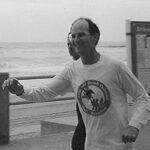 Seaford, VA – James Moye Clark, 79, passed away on Monday, November 8, 2021.
James was a native and lifelong peninsula resident. He graduated from Hampton High School in 1962. He retired from Jefferson Lab in 2014. He enjoyed running and golfing and drag racing, as well as traveling with friends and family. Always good with his hands, he designed and built modifications to the family home, as well as keeping multiple family cars safe and roadworthy.
He is survived by his loving wife of 57 years, Judy Clark, and his children, Tracy Burgmaster and husband John of Powhatan and James D. Clark of Greensboro, NC; grandchildren Alyssa Burgmaster, John Cale Burgmaster, and Kyle Burgmaster. He is also survived by his sister Carolyn Dale and husband Edward and his brother Jerry Clark and wife Elizabeth. He was preceded in death by his sister Barbara Truitt and his brothers Charles and Glenn Clark.
Services will be held at a later date. Arrangements by Amory Funeral Home, Grafton, VA. The family requests any gifts be in the form of donations to The Hospice House and Support Care of Williamsburg, 4445 Powhatan Pkwy, Williamsburg, VA 23188.