James Marshel Hughes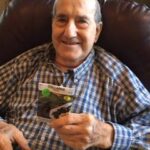 Gloucester, Va. – James Marshel Hughes was born in Lebanon, Virginia to Bessie Mae and Charles Lilbourn Hughes. Located where the Blue Ridge and Appalachian Mountains meet, Daddy was raised in the hollers and coal camps surrounding this small southwestern town. Life began in his beloved mountains and at age 88, surrounded by the love of his family, life ended at home by the Ware River, another place he held so dear.
Daddy was a proud graduate of Tazewell High School and was co-captain of the Bulldogs' football team. During his senior year at Tazewell, he was presented the opportunity to pursue football at a small Virginia college, however, those plans were diverted when he met a fellow classmate, a pretty red-head named, Frances. Although he loved the game of football, he grew to love her far more.
Love letters were exchanged and many evenings were spent together on the porch swing, their courtship and love bloomed. After graduation, in 1951, they married and their bond of love, commitment, laughter and friendship lasted 68 wonderful years. They never stopped holding hands, most of all, they never stopped saying I love you.
Their union produced three children: Gordon (Beverly) Hughes of Suffolk, Terri (Danny) Joyce and Karen (Stephen) Smith, both of Gloucester. Daddy was the eleventh of twelve siblings, leaving one surviving brother, Bobby Hughes, of Florida, as well as seven grandchildren, six great-grandchildren and a vast number of nieces and nephews, all whom he loved so dearly. Most especially, Daddy's legacy of love will live on through our mother, Frances, whom he is survived by.
As a child of the Great Depression, Daddy learned important life lessons that provided the foundation of a stable and secure life. He valued hard work, reading, education and prudence. He was not one to impose his beliefs or directly dispense advice, instead he taught us important values through quips he often said, such as "watch the pennies, nickels and dimes and the dollars will take care of themselves," "the best things in life are free," and "the time to make friends is before you need them." His wise counsel will be greatly missed.
Daddy had a strong work ethic and a mindset to always be the hardest worker in the room. This led to a fulfilling 38-year career with the Newport News Shipyard. At the shipyard, he proudly participated in the construction of some of our nation's most formidable nuclear-powered aircraft carriers. When not at work, he usually could be found tending his extensive vegetable garden, a skill he mastered and greatly enjoyed. As was his intention, there was always an abundance of tomatoes, corn, peppers, green beans, collards and so much more, which he happily and freely shared with so many friends and neighbors.
Despite the grief so many of us feel at his passing, we take great comfort in knowing that as a young man, Daddy fully and completely gave his heart to God. In addition to marrying our mother, this was the most transformative event in his life. His deep Christian faith was the guidepost for his living a life of love, honesty, integrity and charity. He became a scholar of God's word, had a dedicated prayer life and possessed a deep care and concern for the spirituality of others. We are so proud that his spiritual convictions consistently resulted in actions that demonstrated his deep faith.
How proud we were of his life. How we will miss him.
To the angels of Gloucester's Riverside Walter Reed Hospice, there are no words to express our heartfelt gratitude for the care and kindness you showed our father. To the many friends and family that loved and supported us during our father's illness, your kindness is so rare and so deeply appreciated.
In lieu of flowers, Daddy would be pleased for the church he loved so much to receive donations in his name in any amount: Bethel Baptist Church, 1004 Yorktown Road, Yorktown, VA 23693.
The family will receive friends on Monday from 6:00 to 7:30 PM in Amory Funeral Home. A funeral service will be held on Tuesday, January 28, 2020 at 10:00 AM in Bethel Baptist Church with interment to follow in Peninsula Memorial Park.