James D. Brewer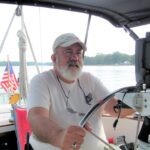 Yorktown — James D. Brewer, 77, passed away December 16, 2021. A lifelong York County resident, he was the only child of the late James R. and Louise Ironmonger Brewer. Jim was a 1963 graduate of York High School. He retired from Newport News Shipbuilding, where he spent most of his career in QID and earned the title of Master Shipbuilder.
For many years, Jim was actively involved in the community service programs of the National Exchange Club, especially in the areas of Americanism, youth scholarships, and prevention of child abuse. He was a former member and past president of the Exchange Club of York, and was currently a member of the Exchange Club of Henrico.
It was often said he "had salt water in his veins", because he was happiest when he was on one of the various boats he owned from the age of 6 until his passing. He loved sailing the Chesapeake Bay and its tributaries and made many wonderful friends who shared that love.
He is survived by his wife of 55 years, Susan Zalumas Brewer, and his sisters-in law, Barbara Z. Eidlin (Dr. Martin Eidlin) of Virginia Beach, and Betsy Zalumas (Michael Thompson) of Chesterfield; and a host of cousins all across the country.
Should friends desire, memorial contributions may be made to the Virginia District Exchange Clubs Foundation, 5604 Cold Harbor Rd., Mechanicsville, VA 23111; or the York County Food Closet, 300 Ella Taylor Rd., Yorktown, VA 23692.
Services will be private.