Jacqueline "Jackie" Marie Elliott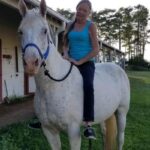 Yorktown, Va. – Jacqueline "Jackie" Marie Elliott, 62, passed away on Monday, October 18, 2021.
Jackie was a native of Long Island, New York and a peninsula resident since 1984. She was a respiratory therapist at Sentara Williamsburg for over 20 years. Jackie spent most of her time at the barn with her horse, Biscuit, her best friend Ashley, and the rest of her "barn family". She was an avid lover of animals, and along with her horse, she leaves behind her three cats, Stephen, Angus, and Grey Cat. All of which she told her daughters "not to bring home ", but they did anyway. Jackie never turned away an animal in need. She was preceded in death by her husband of 29 years Thomas Scott Elliott, her mother and father, James and Rachel O'Brien, a sister Karen Tasso and is survived by her daughters, Chelsea "Chase" Elliott and Kalyn Elliott both of Hampton and sisters, Lori Zirkelbach, Donna Gallagher and Gail McNamara, along with many nieces and nephews. A celebration of her life with family and friends will be held at her daughter's home. Please bring a dish and a story to tell. In lieu of flowers, donations to Jackie's medical expenses can be made at gofundme.com/f/JME-memorial Call 757-784-1108 for more information on dates and times. Arrangements by Amory Funeral Home, Grafton, Va.