Irene Shirley Hoopes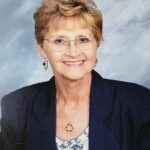 Newport News, Va. – Irene Shirley Hoopes passed away surrounded by her family on Thursday, January 6, 2022. Irene was born in Folsom, Pennsylvania. She was a loving daughter to Clara and Earl Haas and sister to 4 brothers: Bob, Charlie, John, and Billy. She married the love of her life, James, and spent the next 64 years as an Air Force wife moving to Tennessee, Illinois, New Jersey, and finally here, in Virginia where they retired. Irene was a devoted wife, mother, grandmother, and great-grandmother. She loved spending time with her family, holidays, and going to the beach. She loved her church and the many friends she made there. She spent time with the children in the church nursery on numerous occasions, and loved to bake banana bread, cakes and pies for their many activities there. She will be dearly missed by her husband James, and their 5 children: Donna, Brenda, James, Douglas and Heather, 10 grandchildren: Seth, Brandon, Evan, Caitlin, Alayna, Leah, Christopher, Sierra, Sean, and Jordan, and 6 great-grandchildren: Aubrey, Eden, Aria, Ellie, Luke, and Kinsley.
A service will be held at Denbigh Presbyterian Church Saturday, January 15, 2022 at 2pm. Please send flowers and/or donations to Denbigh Presbyterian Church. Arrangements by Amory Funeral Home, Grafton, Va.