I. Ellen Lupton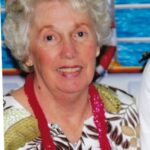 Yorktown, Va. – I. Ellen Lupton passed away on February 18, 2023. Ellen was born in Newport News on April 12, 1942. She graduated from Riverside School of Nursing and worked as an OR nurse at Riverside Regional Medical Center for 10 years. Later she went to be Dr. Glenn Shepard's private scrub nurse for 5 years before retiring in 1992.
She was preceded in death by her husband Murray Lupton, her parents, Thomas and Ellen Barrack, her siblings, Thomas (Tom) Lee Barrack, and Laura Virginia (Gina) Colonna, and is survived by her nephews, Michael, and Martin Moore, and "her girls" (caregivers) Kimberly Mullen, Sierra Todd, Senora Coleman, Michelle Forrest, Andrea Kerner, Brandy McCreery.
Ellen loved to travel with her husband as well as spend time with her family and friends. She enjoyed Westerns, NASCAR and Country Music. Although she never had children, she was a devoted fur baby mom to Chad and Patty.
A memorial service will be held at 6:00 p.m. on Wednesday, April 26, 2023 in Amory Funeral Home Chapel in Grafton, VA with Rev. Lynwood Wells officiating.