Howard Irvin Robertson, Jr.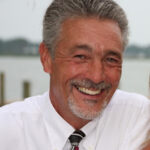 Yorktown, Va. – Howard Irvin Robertson, Jr. 63, passed away after a courageous battle with cancer and surrounded by his family on Saturday, January 11, 2020.
Howard was a native of Richmond and was a longtime resident of Yorktown. He was in the commercial tire sales business for over 40 years and was the manager of Colony Tire at the time of his passing. He had a friendly smile, great whit, and was a loving and devoted husband, father, and grandfather.
He is survived by his wife of 12 years Brenda Robertson and his children, Genis Robertson of Richmond, Cheyenne Taylor of Spokane, Howard I (Trey) Robertson , III of Newport News, and Deseree Billings and her husband Thomas of Hayes, and 4 grandchildren, Carter, Ethan, Kendall and Casey. He is also survived by his brothers, Michael and Brian Robertson, and a sister Cindy Barry and her husband Charlie.
A funeral service will be held at 6:30 PM on Wednesday, January 15, 2020 in Amory Funeral Home Chapel. The family will receive friends following the service. Memorial may be made to the VCU Massey Cancer Center, 401 College Street, Box 980037, Richmond, Virginia 23298-0037