Howard "ED" Edward Norris, Jr.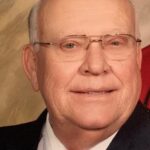 Yorktown, Va. – Howard Edward "Ed" Norris, Jr. of Yorktown, VA, passed away on February 21, 2021 shortly after being diagnosed with terminal brain cancer.
He was preceded in death by his parents, Howard Edward, Sr. and Sarah Norris. Survivors include his wife of 55 years, Lynda; son, Howard Edward, III "Trey" (Leah); daughter Amy N. West (Mark); six grandsons, Christian and Brady Norris, CJ Whitten, Aiden, Asa, and Ethan West, and one granddaughter, Elie West. Ed was cherished by his family and a host of close friends and work colleagues. Ed will be dearly missed by all.
Ed was born on March 13, 1941 in Foxwells, VA and lived in Kilmarnock, VA until starting college at Old Dominion University in 1960. After college graduation in 1965, he built a career in the floor covering business until his "retirement" in 2000, at which point he developed a real estate investment business that continues today. He worked the family business with a passion for restoring and beautifying his investment properties up until the very end.
Besides being a "human calculator" who had a mind for numbers, Ed was a patriarchal family man who worked and sacrificed constantly for the benefit of his family and friends. His family was by far the most important thing in his world and he blessed them constantly with his love and generosity. A life-long Baptist, he attended Northside Christian Church for nearly 15 years prior to his passing.
Visitation will take place Tuesday, February 23rd, 6-8pm at Amory Funeral Home in Grafton, VA. A funeral service will be held Wednesday, February 24th at 11am at Amory Funeral Home Chapel, with a graveside service following at 3pm at Woodlawn Cemetery in Kilmarnock, VA. Northside Christian Church's Senior Pastor, Larry Jones will be officiating.
In lieu of flowers, memorial donations may be made to Hospice House and Support Care of Williamsburg, 4445 Powhatan Parkway, Williamsburg, VA 23188. Arrangements by Amory Funeral Home, Grafton, VA.