Horace Ray Duley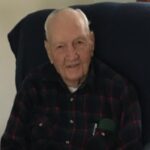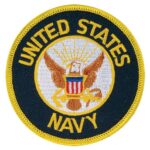 It is with deep sorrow that we must announce the passing of our beloved father, Horace Ray Duley, 102, on Friday April 23, 2021. Ray was born on March 22, 1919 in Posey County, Indiana and at the age of 20 joined the U.S. Navy where he served for 221/2 years. In 1940 he met the love of his life, Ruth May Garland and they shared 76 years together, raising their two daughters, Nancy and Barbara.
During World War II, dad served in the Pacific, being involved in the Battle of Midway, Doolittle's Raid and was a survivor of the Battle of Savo Island. He also witnessed the end of the war in Tokyo Bay. Dad enjoyed being in the navy and visiting different countries where he met and remained close to many international friends.
Upon retiring from the Navy he came to work at Yorktown Naval Weapons Station, where he retired in 1976, but that didn't stop him from working for his community. Dad helped found the local Fleet Reserve Association, helping in many areas of need.
Dad's passion in life, outside of his family, was his backyard garden which he maintained until he was 100, sharing its bounty with neighbors and friends. He also loved to fish and hunt. He belonged to Colonial Flatiron Hunt Club and loved sharing many deer hunts with his late son-in-law Bob Hawkins.
Dad is survived by his daughters, Nancy Jean Hawkins of Yorktown, Barbara Joyce Richards (Bill) of Selah, WA, his sister Jean Kaffenberger (Tim) of The Villages, Fl, grandchildren Cheryl Rae Boehm (Billy), David Brian Hawkins, Charles Raymond Richards, Christina Marie Swindler, 7 great grandchildren and 2 great-great grandchildren and numerous nieces, nephews and cousins. Dad was preceded in death by his wife of 76 years Ruth May Garland Duley.
We wish to thank the many who have helped Dad and our family through this difficult time, including Heartland Hospice, Caring Touch Home Care, and especially, Kelsey, Ann, Stacey and so many others.
A funeral service will be held at 11:00AM on Thursday, April 29, 2021 at Amory Funeral Home Chapel with Rev. Lisa Barbery. The family will receive friends one prior to service. Interment will be held at 1:00 PM on at Albert G. Horton, Jr. Memorial Veterans Cemetery, Suffolk, VA. Arrangements by Amory Funeral Home, Grafton, VA.