Helen Virginia Pierce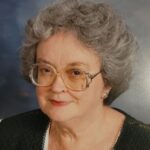 Yorktown, Va. – Helen Virginia Pierce, 80, passed away on Thursday, August 26, 2021.
Helen was born in Norfolk, Virginia and a Yorktown resident for 62 years. She was a member of Yorkminster Presbyterian Church.
She was preceded in death by her husband of 43 years Jack Pierce and her daughter Jacquelyn Herrmann. Helen is survived by her son Jeffrey Pierce and his wife Tammi, 7 grandchildren Barbara Mackey (John), William Pierce, Tessa Gann (Justin), Lauren Smith, Jennifer Pierce, Mackenzie Herrman and Jack Herrmann and 6 great grandchildren.
A funeral service will be held at 1:30PM on Thursday in Amory Funeral Home Chapel with interment to follow in Peninsula Memorial Park. The family will receive friends on Wednesday from 6 to 7 pm at the funeral home.