Helen Swetz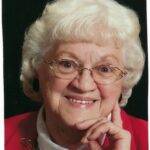 Yorktown, Va. – Helen Swetz passed away peacefully on December 28, 2019.
Helen lived a full and long life. As a parishioner of St. Joan of Arc Catholic Church, she always shared her faith with those around her, reminding all that "God Is Good".
Helen is survived by her 5 children, Kathy Caulfield, (James), Andrew Swetz, Phillip Swetz, JoAnne Doremus (Steve) and Meg Guerin (Mark), 5 grandchildren and 11 great grandchildren.
Helen moved to Virginia almost 20 years ago from New England. Here in Yorktown she continued to be a very active member of the Catholic church. She was a Eucharistic Minister serving those in the parish of St. Joan of Arc, Mary Immaculate Hospital and St. Francis Nursing Center for many years. After Helen suffered a stroke and moved into an assisted living facility, she continued with her ministries, including starting various Bible Studies and being a source of encouragement and mentorship to many
Helen loved traveling, gardening, reading, puzzles and serving in her various ministries throughout her years. Everywhere she lived she made sure to plant a garden. Her home always had trees, bushes and plants blooming in every season of the year. She was also an awesome baker and was always sharing her baked goods with those near and dear to her!
Helens love of traveling began when she and Andy married in Colorado while he was in the Air Force. From there Andy's career took them to many different duty stations, ending in Nebraska. They then moved to NJ to be near family and stayed for almost 20 years. There were a few moves afterwards with retirement, yet Virginia was to be the one place she called home longer than any other.
She and Andy traveled to many places stateside and overseas making sure to enjoy the sights and food of every adventure. One of her many highlights was getting to Rome and the Vatican. Helen also had the opportunity to meet Mother Theresa. One evening in December, Mother Theresa was to visit a group of seminarians in New Jersey. Because of snow there was a delay of all the seminarians arriving in time. As Mother Theresa waited, a prayer group Helen was involved in got a call that said if the women could get to the seminary, they would be able to meet her. The women made it through the snow and arrived just in time. Helen stated that as Mother Theresa entered through the double doors, a light shone around her. She was surrounded by a blue and yellow aura. All of these women stated that they felt as though they were surrounded by God. What a gift they had been given!
Helen is at peace, as is her family. Life goes on and we must always remember to keep positive and encourage those around us. Share a good word with someone new, and always keep an open mind.
A funeral mass will be held on Tuesday, January 7, 2020, at 4:00 PM at St. Joan of Arc Catholic Church, Yorktown, VA.
In honor of Helen, the family asks that you plant a flower garden and spread the beauty of nature with all, bring sunshine to those around you and share a smile.
A special thanks to those at The Gardens-Warwick Forest, staff and nurses for their care and support of not only Helen but also the family. Please remember to support your local Hospice or Alzheimer's group.