Helen Ruth Sadler West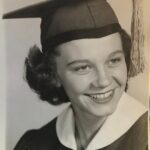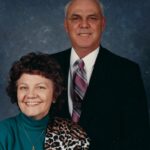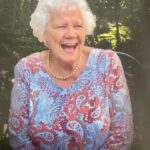 Grafton, Va. – Helen Ruth Sadler West, 90, peacefully went to be with her family in heaven Friday Jan. 20, 2023 with family by her side. Helen was the last child born to Joseph Robert Sadler & Ola May Hines near the Skelton Station area of Forksville, Mecklenburg County, VA. When "Bom Bom" as she was known by her grandchildren spoke of her childhood she talked about living in the "Red" store on Forksville Road & their farm on Dixie Bridge Road and living at "Indian Springs Tavern". In 1951 she graduated from South Hill High School, when it was on Franklin Street & married Hugh Franklin West Sr. They had 4 children Frank Jr., Rachael, Scott & Jola. They moved to Piney Point in 1967 where Jola was born (18 years after Frank) & named after Helen's parents Jo-Ola.
She was a totally devoted mother and grandparent. Memories of BomBom's Easter Egg hunts, sleepovers, Christmas dinners, birthday cards with $5, & her presence at school programs, ballgames, recitals, milestones & graduations remind us how much she loved us. She was a devout Christian and member of St. Mark's Lutheran. She taught us to believe in God, be of service to others and a good neighbor. We will miss her caring & kindness but her undying love for God & family will live forever!
Helen was preceded in death by her parents, siblings Melvin (Corene Puryear), Emma Rose (Rufus Temple), & Josephine (Weldon Jones) ; her husband of 60 years; her son R. Scott West(Christine); son-in-law Randy Cofer; grandchildren Randy Wright Cofer, Jennifer Ann Taylor, & Jacquelynn Christine West; and great-grandson Morgan Dean Allred.
Helen is survived by her son H. Frank West, Jr. and daughters Rachael Cofer & Jola West. BomBom is survived by her grandchildren Bonnie Fitz, Larry Larson, Jr., Michelle Leshok(John), Joseph Cofer(Karen), Kim West, Rachel Potts(Joey), Michael & Tiffany West; great-grandchildren Isabella 'Izzy' West, Zackary Fitz, TJ & Frankie Pratt, Brandon Cofer, Katie Potts, Lauren Burns, Andrew Smith, Jennifer & Jordan Larson, Taylor & Jennifer West, Angela Russell, Chantis West; and Allison, Isaac, & Jake Leshok.
The family will receive family & friends on Thursday January 26th, 5-7 pm in Amory Funeral Home, 410 Grafton Drive, Yorktown VA 23692. Graveside service will be held Friday January 27th, 1:00 pm in Parklawn Memorial Park Cemetery, 2551N. Armistead Avenue, Hampton, VA 23666.
Memorials may be made to Peninsula SPCA, 523 J Clyde Morris Blvd., NN 23601 or any animal organization of your choice.