Helen Mittelman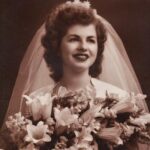 Helen Mittelman of Gloucester Point, Virginia passed away on June 1, 2020, at the age of 94. She is survived by her four children, Michael, Karen, Charles, and Andrew; six grandchildren; and three great grandchildren. She was a devoted mother who worked hard all her long life to care for her loved ones. She will be sorely missed.
Helen was born in Brooklyn, New York in 1925. She married her boyhood sweetheart, Sidney, in May of 1945, at the close of WWII. She lived her married life in White Plains, New York, Bethesda, Maryland and, finally, for 47 years, in Grafton and Gloucester Point, Virginia. She very much loved her years in Virginia.
She was an active member of the Sisterhood at Temple Sinai in Newport News, Virginia. She sang in the Temple choir for many years. Her favorite part of belonging to the Temple were the friendships she made.
Helen was no stranger to work and held many jobs over the years, generally in an administrative role, including the Naval Weapons Station in Yorktown. Her favorite job was working in as an administrative assistant for a research scientist at the National Institute of Health in Bethesda. By far, her fondest experience was working as a volunteer Park Ranger with her husband, Sid, at Mount Rainier National Park.She had years of enjoyment and adventure, sacrifice and giving while she raised four children and, later on, cared for her husband of 72 years, Sidney. She was passionate about physical health, diet, and exercise. She taught tennis and aerobics at the YMCA years before it was a national craze. Few things pleased her more than listening to her favorite opera or selection of classical music. She loved attending courses for senior citizens at Christopher Newport University and around the country at various colleges with Dad, reading a thick book, gluing herself to the Six O'clock evening news back in the day, and CNN and PBS more recently, or enjoying an old movie. She was active in the community, participating in the League of Women Voters, National Organization of Women, Temple Sinai Sisterhood, and her favorite – LifeLong Learning Society at CNU, where, for a time, she held administrative positions. She lived a life that was full and rich.