Helen McElheney Cawley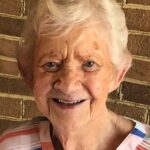 Yorktown, Va. – Helen McElheney Cawley, or "Pug" as she was more affectionately known by family and friends, passed away peacefully at her Yorktown home July 29, 2021. She was 83 years old.
Pug is survived by her husband of 64 years, John "Jack" Cawley; son Michael Cawley (Paula); daughters Donna Moore (Judson) and Diane Ingram (David); sisters Mary Hall and Barbara Cawley (Joe); grandchildren Mitchell Moore (Alexandra), Brett Moore (Lauren), D.J. Ingram and Michael Cawley; and great-grandson Gavin Moore. She was preceded in death by her parents Carl and Ruth McElheney and brother Jimmy McElheney.
Born in Danville, Virginia and raised in Fox Hill, Pug was a 1956 graduate of Hampton High School. She lived in York County for the last 52 years.
She taught many life lessons as a mother but perhaps her greatest gift was teaching her children how to love and respect, and to "forgive and let go." A lesson that deserves repeating.
Pug never met a stranger. Her happy, approachable demeanor made her an easy target for a good conversation.
Although physically small in stature, she made up for it elsewhere. Her quick-witted, often unfiltered comments — to her grandchildren, at least — were one of her most likable traits. If you wanted to know the truth, just ask Nana. There's nothing quite like a grandmother's love.
Pug hosted many sleepovers, attended countless ballgames and spent a retired lifetime in the backyard pool. She enjoyed her morning cups of coffee almost as much as she enjoyed her family's company. For the longest time, two sugars and a splash of milk.
She'll be remembered most for having such a kind, loving soul, her Herculean hugs and, of course, her famous Thanksgiving dressing.
Until we meet again, we love you "a bushel and a peck and a hug around the neck."
A celebration of life service will be held 2 p.m., Monday, Aug. 2 at Amory Funeral Home, 410 Grafton Drive, Yorktown, VA 23692.