Anna Mae Ashworth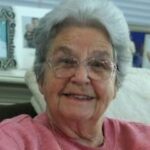 Anna Mae Ashworth, 99, passed away peacefully on May 31, 2020 at home in Seaford, VA where she lived for the past 20 years. She was born on Dec. 13, 1920 in Hurricane, WV to the late John E. and Ruth Terry Lake.
She was a retired teacher from Putnam County Schools in Hurricane, WV. She began college at the age of 34, ultimately receiving a BA from West Virginia State College and a MA in Education from Marshall University.
She was a wonderful mother, grandmother, great grandmother and friend, a member of the Primitive Baptist Church, an avid reader, fantastic gardener, flower aficionado and discovered painting in her 80's at the Senior Center of York.
She was preceded in death by her husband, Lonnie C. Ashworth, son Joe Edward Ashworth, sister Martha Lake Sovine, and brothers James, Wilson, Woodrow and Don Lake.
She is survived by son and daughter-in-law Robert C. (Lana Hope) Ashworth of Seaford, VA, daughter-in-law Charlotte Ashworth Meadows of AL, grandchildren Joe E (Maria) Ashworth and Jeffrey Ashworth of AL, Janet Ashworth of CO, Carmen Sechriest and Amanda Ashworth of VA, great grandchildren Summer and Brandy Ashworth, Chelsea Chenoweth, Brooke Sullivan of AL, Sullivan Mollett of CO and Zachary, Collin and Lauren Sechriest and Anna and Riley Cockrell of VA and 4 great great grandchildren.
A graveside service will be held on Thursday, June 4th, 2020 at 11:00 am at Valley View Memorial Park in Hurricane, WV with Elder Harold Johnson officiating. Arrangements are being handled by Amory's Funeral Home in Yorktown, VA.