Helen Harrell Lewis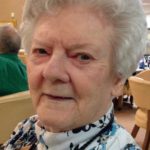 Yorktown, Va. – Helen Harrell Lewis, 100, passed away on Saturday, August 18, 2019, nineteen days after her one hundredth birthday. Helen was a native of Macclesfield, North Carolina and one of twelve children to the late Annie Walston and Clayton Harrell, Sr. and was preceded in death by all of them. Alice Lewis, Cad Harrell, Thad Harrell, Vonnie Webb, Marvin Harrell, Gretchen High, Clayton Harrell, Jr., Gladys Stallings, Max Harrell, Carson Harrell, and Ledger Harrell.
Helen worked as a secretary with the Edgecombe County Agriculture Extension in Tarboro, NC. She and her husband Luther were both charter members of Longview Methodist Church in Raleigh, NC, where Helen worked as the church secretary for many years. Later they become active members of Highland Methodist Church, also in Raleigh.
Mom was born Annie and Clayton Harrell in Macclesfield, NC in July 1919 and was one of 12 children eventually born to them. She was raised on a farm and, like her brothers and sisters, worked in the fields of cotton, tobacco, and food crops. The farm and the general store that her father ran, helped sustain the family during the Depression years. It was also a time when she learned to be very frugal with things and to find new uses for common farm items, like seed sacks which could be made into dresses or used in quilts.
Although she and her sisters helped their mother cook for more than 14 people at most meals, Helen was a tomboy by nature, learning to climb trees and and get into other mischief like her brothers. When she was younger, she, her siblings and the neighborhood kids amused themselves by making their own toys or playing games like Sheep-board Down (a game played with a tobacco stick that was thrown while the kids would run and hide. When she would get in trouble with their father, she would run and hide under her grandmother's (her father mother's) apron – a safe zone for her and her siblings that their father would not breach. They played such games as soaking a ball of twine in kerosene, lighting it, and tossing it back and forth quickly to avoid getting burned. Unfortunately, one of her brothers tossed the burning ball into a barn and set some hay on fire, which may've affected both his bottom and the future of such a dangerous game.
In her teen years she was often jealous of the fact that the boys could go out by themselves in their free time, while the girls had to be accompanied by someone. She also wanted to be able to ride a motorcycle.
From her mother, Annie, she learned to be a terrific cook. She especially loved to cook desserts such as cherry pie, apple pie, lemon meringue pie, divinity fudge, chocolate brownies, date bars, German chocolate cake, gingerbread men, and cupcakes, to name a few.
She met her husband-to-be, Luther Lewis, through his sister Ella, while Helen was working as a secretary for the Edgecombe County Agricultural Extension Office in Tarboro, North Carolina. Luther, after spending most of his life on the farm and then attending Mars Hill College in the NC mountains, had been an aircraft mechanic in the Army Air Corps. After the war, he and Helen married, moved to Raleigh, where Luther worked several jobs as a machinist, mechanic, and instrument-maker (for AMF, Caterpillar, Ford Motor Company, and the North Carolina State College (later University) nuclear reactor project.
They had two boys, Luther Emmett Lewis, Jr. and Donnell Clayton Lewis, the latter of whom died of encephalitis at the age of 17 months.
The death of their young child had a profound effect on Helen. In recent years, she occasionally said she could hear a young child crying for his mother.
While Luther enjoyed carpentry in his workshop, Helen was enthusiastic about ceramics, sewing, crafts, reading (a life-long interest she passed along to her young son, Emmett, by spending many hours reading to him before he was old enough for school).
Helen and Luther were very active charter members of the Longview Methodist Church where Helen worked as the church secretary for many years. Both enjoyed volunteering in the church's annual fair booth restaurant, working with Boy Scouts, youth activities, and teaching church classes. In later yers, when Luther got a job with North Carolina State College, they moved across town and became very active members of Highland Methodist Church.
Throughout their life together, they both enjoyed traveling and sometimes camping,, regularly spending time in the mountains and at the beach, where she enjoyed collecting shells with her son. After retirement, Helen and Luther both enjoyed a quiet, but active social life, having breakfast at McDonald's with friends every morning, going "yard-saling" (another enthusiasm passed to their son), and playing canasta, Uno, Scrabble, or Boggle with friends in the evening. As she still had a string bass and cello from her son's high school years, Helen took classes to learn to play the cello and played often in a small string community group. After her husband passed in 1988, she picked up bowling and bowled in a senior league. She continued to drive and go out to breakfast and lunch with the same friends she and her husband had enjoyed spending time with. She remained active in the church at Highland Methodist.
In 2005, she moved to Colonial Harbor, a senior independent living community in Yorktown, VA. She made many friends among the residents, caregivers, and staff over the next 15 years while enjoying the close proximity and visits with her son.
She was preceded in death by her husband of 40 years Luther Emmett Lewis, Sr. and a son Donnell Clayton Lewis. She is survived by her son Luther Emmett Lewis, Jr and his wife Loan and four grandchildren, Donnell Lewis of Marietta, GA, Christopher Lewis of Boise, Idaho, Michael Buckner of Arlington, TX and Cecilie Burghardt of Yorktown, and four great grandchildren.
A graveside service will be held at 2:00 PM on Saturday, August 31, 2019, in Faison Cemetery, Faison, North Carolina.