Hazel Crowder King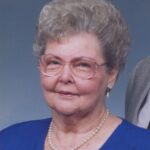 Yorktown, Va. – Hazel Crowder King, 95, passed away on Saturday, March 7, 2020 in York Convalescent and Rehab Center in Yorktown, VA.
Hazel was born in Danville, VA on June 20, 1924, the daughter of the late James Leonard Crowder and Texas Roach Crowder. She worked in the payroll dept. at Dan River Inc. in Danville until moving to Hampton in 1955 and then to Yorktown, VA in 1963. She enjoyed cooking, sewing, making crafts, canning from her vegetable garden and spending time with her family. She was a member of Liberty Baptist Church in Hampton, VA.
She was also preceded in death by her husband of 63 years, Johnnie Miles King; brothers, James Crowder Jr., Raymond Crowder and Curtis Crowder. She leaves behind to cherish her memory her son, John Keith King and his wife Nancy of Moneta, VA; her daughter Lisa Myers and her husband Jimmy of Seaford, VA; a granddaughter Jennifer Myers of Seaford, VA; a grandson Bradley Myers of Richmond, VA; a sister-in-law June K. Adams of Danville, VA; a niece Rae Anne Rigsby of Danville, VA; and numerous other nieces, nephews and cousins.
Her family would like to extend their sincere gratitude to the staff at York Convalescent for their compassionate care of our Mema.
In lieu of flowers, memorial donations may be made to York County Fire & Rescue/Life & Safety, P. O. Box 532, Yorktown, VA, 23690.
A graveside service will be held at 1 p.m. Saturday, March 14, 2020, at Highland Burial Park in Danville, VA. The family will be at the home of her sister-in-law, June K. Adams, at 113 Tamworth Place after the graveside service. Local arrangements by Amory Funeral Home, Grafton, VA.