Harold William Plahn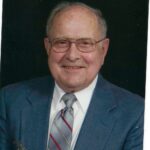 Yorktown, Va. – Harold William Plahn, 94 of Yorktown VA born January 26, 1929 passed away after a brief illness on Saturday August 19, 2023 at Riverside Hospital with his wife by his side.
He is preceded in death by his sons Brian Harold Plahn, Brady Gerard Plahn, his parents Herman and Ester Plahn and sisters Delores Thomsen and Elaine Hain.
Harry leaves behind his wife of 74 years, Barbara Plahn, two sons Gerard Plahn (Tonya), Gregory Plahn and daughter Maria Plahn Wilson (David) and grandchildren Ryan Larwa, Brianna Wilson and Dylan Plahn.
Harry was born in Pierce, Nebraska and entered the United States Air Force after graduating from high school. He served his country with distinction for 27 years and attained the rank of CMS. After retiring he continued his career in civil service with the DOD in Indian Head, Maryland retiring after 25 years. Harry was a member of St. Joan of Arc Catholic Church in Yorktown.
In his retirement years he enjoyed tinkering with anything that needed to be fixed in his family home or yard. He spent many years volunteering and supporting his children and grandchildren's sporting events (boyscouts, YC little league, bowling, high school football, baseball and swimming).
We will remember his life for the love he shared, the lives he touched and the wonderful memories that will remain forever in our hearts. May his soul rest in peace.
Harry will be laid to rest at Arlington National Cemetery next to his son Brian. Funeral services are private.