Hansford Lee "Hank" Guilliams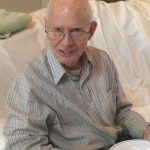 Yorktown, VA – Hansford, Lee "Hank" Guilliams, 80, passed away on Monday, January 7, 2019.
Hank was a native of Callaway, VA and was a peninsula resident since 1947. He was a 1959 graduate of York High School and was a veteran of the US Army. He was employed with Warwick Heating and Air Conditioning for 20 years and retired in 1994. Hank was a member of Bethel Baptist Church.
Awaiting him in Heaven are his parents, Clarence and Essie Guilliams; two sisters, Joyce Martin and Anita Muriel Guilliams and a baby brother.
He was a wonderful, loving, caring and giving brother, uncle, grand uncle and friend. He enjoyed attending church, being with family and friends, learning new things and tinkering with machinery.
He is survived by two brothers, Lane Guilliams (Geraldine) and Barry Guilliams (Rhonda), five sisters, Sylvia Hedden, Brenda Pickett, Wanda Bishop (Tommy), Linda Perdue (David) and Renee Beasley; and a half brother Ray Holland (Nancy).
A Funeral Service will be held at 11:00 am on Friday, January 11, 2019, in the chapel of Amory Funeral Home, Grafton with Rev. Doug Echols officiating. The family will receive friends one hour prior to the service in the funeral home. Interment will be held at 11:00 am on Saturday, January 12, at Walters Family Cemetery in Callaway, VA.
Memorial donations may be made to the American Cancer Society, 11835 Canon Blvd., Suite A-102, Newport News, VA 23606.