Grover Everett Howell, Jr.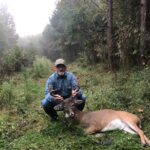 Yorktown, Va. – Grover Everett Howell , Jr. went to be with his lord on July 13, 2022.
Everett was preceded in death by his father, Grover Howell, Sr. and his mother Gloria Howell; as well as his brother Samuel Howell. Everett is survived by his wife of 47 years, Judy Howell; his daughters Robin Nicole Norton and Sarah Leslie Sullivan (Patrick); his sisters Rebecca Webb, Deborah Hutcheson (Doug), and Rachel Girouard (Ronnie); grandchildren Abigail Norton, Solomon Norton, and Owin Robert Sullivan; and truly dear friends Harald Laugginger and John David Bryan.
Everett was a strong family man, loyal parishioner of Waters Edge Church, motorcycle enthusiast, sportsman, hunter, and lover of the great outdoors. He owned and operated Coastal Clean LLC and Jemm Industries. His love of the outdoors was equaled by his love of motorcycles, as an avid member of the Warriors of Faith Group motorcycle club.
Services will be held at Waters Edge Church, Yorktown, Virginia on Tuesday, July 26, 2022 at 1:00pm.
In lieu of flowers, donations may be made directly to Waters Edge Church, Yorktown, Virginia. Arrangements by Amory Funeral Home, Grafton, Virginia.