Gregory Ross Goble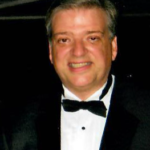 Yorktown, Va. – Gregory Ross Goble, 60, passed away in the presence of his wife, on January 4, 2021.
Born in Plainfield, NJ, in 1960, the family moved to North Palm Beach, FLA and then to the Peninsula when Greg was 2. He spent the remainder of his years here.
He is predeceased by his father, Ross Lee Goble, Ph.D. his step-daughter, Lindsay Christine Butler, and leaves behind to cherish his memory, his wife of 23 years, Marie, daughter Sarah Elizabeth, mother Mabel (Mabs) Goble, sister Deborah Noble (Jay), sister Pamela Patterson (Steve), 1 nephew, 4 nieces, several aunts, uncles and cousins.
Greg's first love was his family, but he had many passions during his life. He was an avid sailor who sailed his Laser in Hampton regattas during his youth/teen years. He loved photography, history, and woodworking, which he learned from his father. He graduated from Menchville High School and attended Va. Tech and Christopher Newport University. He and his father assisted the sailing team at CNU, transporting boats for competition.
Along with his parents, in 1984 Greg started with Engineering Development Laboratory, Inc. (EDL) a family-owned enterprise in Newport News, VA. His position as Director of Engineering required continual educational courses/qualifications. These skills took Greg to Cape Canaveral where he attended a Columbia Space Shuttle launch and allowed him to be an integral part of several EDL NASA Life Sciences projects successfully flown aboard Space Shuttle missions for physiological research. As EDL morphed and expanded into an advanced electronics manufacturing firm, one of the highlights of Greg's career was leading the firms' quality efforts for mission-critical electronic modules successfully deployed into US Air Force ICBM Minute Man III weapon systems launch control facilities.
The family would like to acknowledge and thank the VCU Hume-Lee Center staff for their care of Greg. Memorial donations should be sent to the American Kidney Fund, www.KidneyFund.org.
A private memorial service for family and EDL co-workers was conducted by the Reverend Scott Baker and held at EDL on Thursday, Jan. 14, 2021 at 3:00 pm. Due to COVID, a zoom link was made available for those who wished to view the service. Please email pam@nulledli.com for a copy of the service if you would like to view it. A private service for family will be held at a later date. Arrangements by Amory Funeral Home, Grafton, VA.