Gloria Walker Rose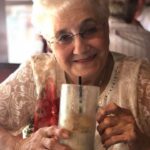 Gloria Walker Rose, 87, of Yorktown VA finally reunited with the love of her life and her Lord and Savior on Saturday, Oct 30, 2021.
She was born in Halifax County, North Carolina to Charles and Ola Peterson Walker on the 11th of October 1934. She was only 5 years of age when she accepted Christ as her Lord and Savior and she lived his testament every day of her life. Throughout the years, she spent many of her Sundays with her church family including Warwick Assembly of God.
At the age of 14, she was swept off her feet by the love of her life, JD Rose. In March of 1956, she said, "I do" and they spent 49 glorious years of marital bliss. They brought 2 beautiful daughters into their circle of love. Connie, 64 (Allen Blackwell) and Crystal, 52 (Robert Marvin) which they loved unconditionally with every fiber of their being. Their love was so strong that it spilled over to another that they claimed as a son, Buddy, 52 (Laurie) Dearing. He was the son they never had.
Their love has left a beautiful legacy in their grandchildren Justin Burroughs, Ryan (Reda) Burroughs, Jordan Burroughs (Sarah), Adam Durham, Cierra (Zachary) Shaver, Mikayla (Joshua) Miller, Meggan (John) Burggraf, Ricks Dearing, and Lauren Dearing.
When you miss her, look no further, as she will always be in the eyes and spirit of her precious great grandchildren Noah, Cyrus, Rex, Kathryn, Brodie, Enzo, Lilly, Amelia, Madelyn, Sophia, Emily, Rylee.
A viewing will be held on Thursday, Nov.4th, 2021, between the hours of 2pm-4pm at Amory's Funeral Home in Grafton, VA.
In lieu of flowers, please consider a donation to the American Diabetes Association.