Gerald Ray Hopkins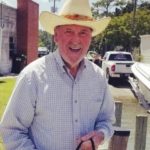 Seaford, Va. – Gerald Ray Hopkins, 94, passed away on Monday, July 29, 2019. Gerald Ray was a native of Poquoson and the son of the late Guy David Hopkins and Inez Carmines Hopkins. He had been a Seaford resident since 1946. He graduated from Poquoson High School in 1942 and attended Campbell College. He worked as a waterman on the Chesapeake Bay before working at the Naval Weapons Station in Yorktown for 32 years and retiring in 1989. He was an active member of Zion United Methodist Church.
He is survived by his loving and devoted wife of 73 years Rose Marie (DeAlba) Hopkins, his children, Joyce Hopkins Wilburn and her husband Joseph A. (Jack) Wilburn, Jr. of Yorktown, Anne Claire Hopkins Conner and her husband Darron of Seaford, Kevin Ray Hopkins and his wife Sarah of Los Angeles, CA. and David C. (Chris) Hopkins and his wife Anna May of Seaford. He adored his 8 grandchildren Christine DeAlba (Dee Dee) Matthews, Gerald A. (Gerry) Hopkins, Ronald (RJ) Collier, Jr., Amber Wilburn Giampa, Jaclyn Wilburn Ramsey, Wesley Marie Collier, Anne Mills Conner and Davis Scott Conner and his 5 great grandchildren Ashton Marie Ramsey, Olivia Grace Ramsey and Miles, Easton and Cole Matthews. He is also survived by his sisters, Joyce Jordan, Madelin Morrison and Carolyn Graham and preceded in death by his sister Marjorie Jones.
The family will receive friends on Thursday from 6:00 to 7:00 pm at Zion United Methodist Church. A funeral service will be held at 11:00 AM on Friday, August 2, 2019 at Zion United Methodist Church with Rev. David Magruder and Rev. Joe Carson officiating. Interment will follow in the church cemetery followed by a reception in the church social hall. In lieu of flowers memorials may be made to Zion United Methodist Church, 2109 Seaford Road, Seaford, Va. 23696. Arrangements by Amory Funeral Home, Grafton, VA.