George W. Hamm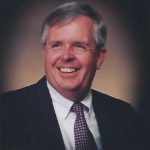 Seaford, Va. – George W. Hamm, 77, passed away at home peacefully on Friday, November 15, 2019 surrounded by loved ones. George was the son of the late Smith and Anna V. Hamm. He was a graduate of York High School and the Newport News Shipbuilding and Dry Dock Company (NNS &DD Co.) Apprentice School. He grew up in Seaford, VA and was a member of Zion United Methodist Church. Upon graduation as a machinist, one of George's positions at NNS&DD Co. was serving in the capacity as an instructor at the Apprentice School. George's 39 year tenure at NNS & DD Co. culminated with his 1999 retirement as a section superintendent in department 043.
Soon after retirement George started driving for York County School Division for the School of the Arts for 12 years. He thoroughly enjoyed this interaction with these extraordinary and gifted children. He also enjoyed his spare time in his beloved machine shop where he applied his trade earned at NNS&DD Co.
Left to cherish and honor his memory are his wife of 52 years, Janet Purcell Hamm, his daughters Chief Warrant Officer, USA (Retired) Jennifer Hamm and Julie Harris (Paul), three cherished grandchildren
Seaman Recruit Kylie Dryden, Taylor Harris and Garrett Harris, his sister-in-law Shirley Howard (Robert), his brother-in-law Bobby Golden, and numerous loving nieces, nephews and cousins.
He is preceded in death by both his parents and his sister Judith Golden.
The family would like to express their heartfelt thanks to Elizabeth Elliott for her assistance in caring for George, Dr. Giorgi-Guarnieri for her professional care, and for the compassionate support of Heartland Hospice. Words cannot express our gratitude to all of you.
The family will welcome visitors on Thursday, November 21 from 6pm-8pm at Amory Funeral Home, 410 Grafton Drive, Yorktown, VA. A service will be held at 2pm on Friday, November 22; at Amory Funeral Home.
In lieu of flowers and in memory of George, please consider donations to Heartland Hospice, 41 Oyster Point Road, Newport News, VA 23602.