George Raymond Barber, Sr.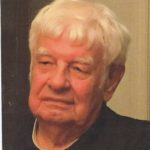 Yorktown, Virginia – George Raymond Barber, Sr. 89, passed away on Saturday, November 30, 2019.
George was born in Shrewbury, Vermont. He was a resident of Yorktown, Virginia. He was a graduate of Warwick High School, North Carolina State University and University of Virginia. He was employed from 1947 to 1997 as a nuclear engineer at the Newport News Ship Yard. George was an avid bridge player.
George was preceded in death by his wife of 53 years Edith Barber and his sister Terry Hood and is survived by a son George R. Barber, Jr. of Newport News and 3 daughters, Robin Barber of Yorktown, Susan Barber of Yorktown and Lisa Barber of Alexandria and a granddaughter Rachel Barber and a great granddaughter, Talia. He is also survived by one sister, Margie Bingham of Alabama.
Family will receive friends on Thursday, December 5, 2019 from 6:00 to 7:00 Pm in Amory Funeral Home. A graveside service will be held at 10:30 AM on Friday, December 6, 2019 in Peninsula Memorial Park..