Gene T. Grady, Jr.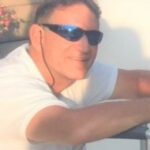 GENE GRADY OBITUARY
Our brother, Gene T. Grady, Jr., who we always called Steve, passed away at home on August 26th of natural causes. He was born in 1953 and raised in Manassas, Virginia. His career began with Dixon Company Plumbing, then Thomas Somerville Plumbing, after which he was hired by Fairfax County. Steve worked for Fairfax County until a knee injury forced him to retire after 24 years of service. He moved to Yorktown after retirement to be close to family.
Steve was known as the numbers guy and historian in the family. We relied on him to tell us what year a thing happened and give a clever association about how to remember a name or date. Because of his keen memory and sense of observation, he could always remember the details.
He leaves behind three siblings who will miss him so-Deborah Grady (Mara), Sharon Crowder Jones (Bill) and Jeffery Grady. He had a host of nephews (Benjamin Crowder, Henry Crowder, Samuel Crowder) and a niece (Stella Grady), who all adored him, as well as many great nephews and nieces. Special thanks to his friend, Michelle, from his neighborhood of Glen Laurel, who took care of him during and after Covid. His ex-wife, Dona Green, remained a very important part of his life, as well as Eddie Dalton, his former brother-in-law. He made many close friends along the way, who he always kept in touch with and spoke of lovingly-including Emerson, Joe, Andy, Robert, Debbie and Tanya. Our brother practiced what he preached: if you needed anything-a sympathetic ear, a place to live, a meal, a loan-he was your guy. He will be greatly missed by the many who loved him.
Arrangements will be private. In Steve's memory, perform an act of kindness for a friend or neighbor.