Gay Tucker Ross-Clunis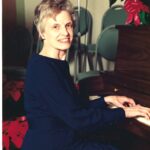 Gay Tucker Ross-Clunis, 88 of Williamsburg, VA died on February 26, 2023.
Gay was born to Hayden and Elizabeth Ross-Clunis at the old Buxton Hospital on Chesapeake Avenue in Newport News. Her family lived on Piez Avenue in Hilton until they moved to Los Angeles, CA when she was a teenager. She earned a BA in History from UCLA and a Master of Music from USC with a major in piano performance. She worked at the Los Angeles Music and Art School as a private piano instructor for many years. Gay joined Phi Beta, the National Professional Fraternity for the Creative and Performing Arts in college and spent the rest of her life promoting the arts.
In 1995, Gay came back to Virginia to care for her mother. She joined the Centerstage Academy of Performing Arts in Yorktown as one of its original, founding teachers and started the local Phi Beta chapter with her colleagues. She continued to teach at Centerstage for 25 years well into her 80's.
Along with her parents, Gay was preceded in death by her brother Hayden Ross-Clunis, Jr and his wife Betty, her brother Alan Ross-Clunis, and her nephew Harold Ross-Clunis. She is survived by her niece Mary Henkel (Kent) of Seaford, and nephews Hayden Ross-Clunis, III (Monica) of Seaford and Edward Ross-Clunis of Richmond.
The Family would like to express their sincere gratitude and appreciation to the staff of the York Nursing and Rehabilitation Center for the care they provided for Gay in her final months.