Gary D. Shulenburg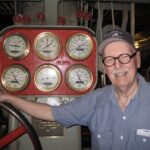 Yorktown, Va. – Gary D. Shulenburg age 84 died October 20, 2022 and passed into the great unknown.
He was born July 21, 1938 in Gloversville, New York to Ernest and Helen (Weaver) Shulenburg. After graduating from New York State Maritime College in 1960 with a Bachelor of Marine Engineering he sailed briefly on merchant ships. He moved to the peninsula in 1961 as a nuclear test engineer. He held various positions in engineering until his retirement in 1993 as Director of Commercial Ship Engineering. In 1995 he earned a Master's degree in Education from ODU. In 1996 he started his "fun job" running the steam engines at Busch Gardens Williamsburg, a job he continued each summer until his vision failed him.
He enjoyed many hobbies throughout his life: racing cars, golf, boating, and running 1/4 scale trains. He had a passion for steam engines as evidenced by owning a steam launch with a wood fired steam engine and building a 1/4 scale steam locomotive. And of course, he also loved spending time with family & friends and sharing a story over a beer or two.
Gary is survived by his wife of 60 years Carol B. Shulenburg of Yorktown, son Karl Shulenburg (Ronda) of Hampton, daughter Kirsten Thomas (Richard) of Mathews. Grandchildren Matthew Thomas, Trevor Thomas, Lauren Cathey, Emily Gabor, one great grandchild Grier Cathey. He is also survived by his sister Gail Brown of Hawaii.
Thanks!