Fredda Jo (Josie) Neel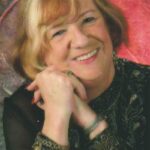 Fredda Jo (Josie) Neel, of Newport News, VA passed away on February 9, 2021, at the age of 78.
Josie is predeceased by her father Fred L Scroggs, Jr; mother Eunice B. Scroggs (née Milton) and husband retired Navy Chief Petty Officer John E Neel.
Josie is lovingly remembered by her brother and sister Billy R. Scroggs (Teresa) and Jackie K. Thornton; her and John's daughter Cynthia L Landis (David); her son and daughter Charles L. White and Cheryl L. Lager (Claude) – children of former spouse Norman L White (d) (Diana); 10 grandchildren, 6 great-grandchildren, 4 nephews and 1 niece.
Josie was born December 21, 1942, in Rome, GA, and graduated in 1960 from Campbell High School in Smyrna. She was an adventurous soul, always learning and reinventing herself. Josie held such titles as Corporate Financial Advisor, Property Manager, Professional Dance Instructor, National Dance Champion, Private Investigator, Catering Representative, Certified Nursing Assistant, Navy Wife, and more. She was a lover of travel and books, an author and published poet, and she also wrote and performed music.
Visitation and Service of Remembrance will be a private service of immediate family only.
Funeral service and interment will be held at a later date at Arlington National Cemetery, where she will be laid to rest with her husband.
If so moved, the family asks that donations be made in Josie's memory to Wounded Warriors Family Support (wwfs.org) in lieu of flowers. Arrangements by Amory Funeral Home, Grafton, Va.