Francis Eldridge Rowe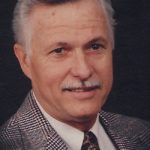 Yorktown, Va. – Francis was born to Eldridge and Evelyn Rowe of Seaford on March 26, 1938 and given his family nickname "little Sonny Jim". He lived the majority of his life in York County, Virginia. He was a graduate of York High School where he was a star athlete, playing both football and baseball. He was listed as York's No. 1 hurler in 1955.
The Yorktown refinery began operations in April 1956. Thirty-nine years later in April 1995, the last of the "Dirty Dozen" (F.E. Rowe) retired. Francis started his career at Amoco on August 1, 1956 in the Accounting Department as a clerk. He was promoted to computer programmer in 1964 and in 1970 to Analyst in the Oil Movement, Economics and Scheduling Division. During this time, Francis married and had two children.
Francis never lost his interest in sports or his competitive edge. He enjoyed and filled his retirement years with golf, fishing and board games. Francis forged a lifetime of relationships on golf courses and lakes. He and his wife, Bonnie both enjoyed extended vacations at the lakes in North Carolina. They shared their life and love and faith with many. In this last year, he rallied himself to be with his best of buddies and play some fun – but seriously competitive golf rounds. Francis was also a test driver and putter for a golf pro group, taking great pride in being asked to test golf clubs for his age class.
He was also passionate about serving his Lord and Savior Jesus Christ. He actively served as a member, youth leader, Sunday School teacher, and deacon in the local Baptist church as he journeyed through this life and lastly as a charter member and elder at York Community Fellowship. His practical wisdom and ability to spread smiles with humor made him to be a pleasure to be around even during difficult times.
Frances was preceded in death by his parents and one sister, Shirley Rogers. He is survived by his loving wife of 31 years, Bonnie Benton Rowe; his daughter, Cathy (Davis) Wilson and his son, Mark (Cindy) Rowe. He is also survived by two sisters; Mary (Sherman) Payne and Agnes Beauchamp. Francis was blessed with six grandchildren; Christopher(Heather) Rowe, Heather (David) Lewis, Jennifer (Joe) Barto, Andrew (Chelsea) Rowe, Kelly Wilson, Rebecca (Bobby) Marshall and eight great-grandchildren.
When asked about the rules he lived his live by, Francis would reply, " the Bible's Golden Rule – treat others as you would have them treat you." We think Francis met this challenge.
A visitation with family and friends will be held Thursday, August 8, from 6-7:30pm at Amory Funeral Home, Grafton, Virginia. A Celebration of his life will follow on Friday, August 9 at 11 am. Memorial donations may be made to; Gideon International N.N. Camp, PO Box 6373, Newport News, VA 23606.