Frances Nicosia Barron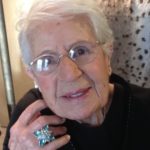 Newport News, Va. – Frances Nicosia Barron, 93, of Newport News, VA passed away on Tuesday July 16th surrounded by her children. Frances was the proprietor of Domenic's on Washington Ave. in downtown Newport News, one block from the main gate of Newport News Shipbuilding.
She was predeceased by her husband, Bernard J. Barron.
Frances is survived by her six children, and one sister.
A celebration of Frances' life will be held Saturday, July 20th, 12 noon at Immaculate Conception Catholic Church, Hampton, VA. Burial will follow at Greenlawn Cemetery, Newport News, VA. Amory Funeral Home is assisting the family.