Florence Irene Hulstine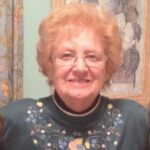 Yorktown, Va. – Florence Irene Hulstine passed away peacefully at home on January 15, 2021. She was preceded in death by her husband of 50 years, George W. Hulstine. She is survived by four sons, Wayne (JeanRae), Boyd (Dana) Ben (Mary) and Brad. She is also survived by 7 grandchildren and 4 great grandchildren.
She was very artistic, expressed through her drawings, painting, knitting and flower arranging. She loved gatherings with family and friends and attending church. Born in Missouri, she married a military man and traveled all over Europe and the United States.
Service will be at York Assembly of God on George Washington Memorial Highway, Yorktown, Va., on Saturday, January 23, at 11:00am. Arrangements by Amory Funeral Home, Grafton, VA.