Eva L. Garner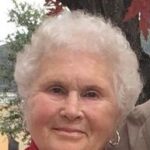 Our loving mother, wife, Nana, Old Nana, sister and aunt, Eva L. Garner, 82, passed away peacefully on Thursday, December 10, 2020. Mom was born to Claudie and Lorene May, grew up in Pottersville, Missouri, and graduated from Bakersville High School, Bakersville, Missouri.
Eva loved to cook, she enjoyed the antics of Lucille Ball, the music of Alan Jackson, and was a diehard Dallas Cowboys fan. Eva was a lifelong member of the Church of Christ and attended the Gloucester Church of Christ until her health declined.
Eva married Edward Odell Garner on November 2, 1956. Together, they raised three daughters. Teresa "Terri" (John) Walton, Mitzie (Robert) Puakea, and Stacy Garrett. Eva is survived by her husband, Ed, her daughters, Terri and Mitzie, three grandsons, six great grandchildren, and by one brother, Palmer May.
Eva was preceded in death by her parents, her daughter (Stacy), one sister (Elva Kreger), and three brothers (Elwood May, Dorman May, and Orbie May).
Eva worked for CNU of the College of W&M and retired from the Newport News Health Department in 2003 with 26 years of service.
Eva's greatest joy came from time spent with her family, especially with her grandchildren and great grandchildren. In her later years, she bravely endured the anguish of Alzheimer's, but never lost her sense of humor. The family will sorely miss her contagious laughter.
There will be a private funeral service. Eva's internment will be at Albert G. Horton, Jr. Memorial Veterans Cemetery in Suffolk, VA.
Remembrances may be sent to the Alzheimer's Association in memory of Eva.