Eugene Duane Schult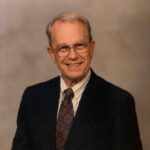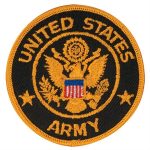 Newport News, Va. – Eugene Duane Schult, 98, passed away at his home in Newport News, VA, on December 18, 2019. He enjoyed a 30-year career with NACA/NASA Langley Research Center in Hampton, VA, followed by a long retirement.
He was born on a farm in Northwest Iowa, the son of Edward and Lillian, and siblings of Myron and Geraldine. Both of his grandparents had fled Bismarck oppression in Germany for freedom in America. He was about six when Charles Lindbergh first flew across the Atlantic – a flight that attracted him to a career in aviation.
Losing the farm due to dust storms and the Great Depression, the family moved to the town of Milford, IA, where Eugene finished high school at the top of his class. The lack of money for college and a growing interest in aviation led him to California for training and then employment in building airplanes at the Douglas Aircraft Company in Santa Monica. With the start of World War II, he was accepted into the US Army Air Corps, eventually flying B-17s, transitioning to B-29s at the end of the war in Europe. After the war, Eugene enrolled at Iowa State University and graduated with honors and a B.S. degree in Mechanical Engineering in 1946. He was a member of Tau Beta Pi and Pi Tau Sigma honor societies. Upon graduation, he was recruited to join NACA-Langley.
He enjoyed a challenging and stimulating career with NACA/NASA, working on numerous projects in varying roles, including: guidance and control systems manager for the Scout Development Program, project manager for the Scout Project Office, head of the Design Criteria Office, head of the Structural Systems Office, and spacecraft manager for the Viking Project Office. He received numerous awards and commendations throughout his career.
He spent his retirement using his creative abilities on a variety of projects, up until the age of 98, and was devoted to his family.
Eugene outlived his siblings and is survived by his wife of 66 years, Shirley Coleman Schult, and their three children – Nancy, Bob, and Mary Ann (Mike Cannon), and three grandchildren – Joseph, Beth, and Anna Cannon – in addition to numerous nieces and nephews.
A memorial service is scheduled for December 26, 2019, at 11 a.m., at the Amory Funeral Home in Grafton, VA, with family visitation following the service. Burial will be private.
In lieu of flowers, the family requests that one consider donating to a favorite charity.