Etta Alberta Crockett Flowers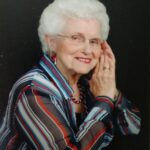 Etta Alberta Crockett Flowers, age 97, passed away peacefully at home on June 28, 2021. She was a life-long resident of Seaford, Virginia. She retired from the United States Post Office after many years of service. She was a member of Seaford Baptist Church, the Daughters of the American Revolution, the Degree of Pocahontas and the Veterans of Foreign Wars Auxiliary.
She was preceded in death by her husband, Bruce Flowers; her parents, Reginald and Birdia Crockett; 5 brothers (Ernest, Rogers, William and Ferdinand); 5 sisters (Lessie, Bessie, Virginia, Bea and Emma). She is survived by 3 children, David (Sharon), Sandra (Billy) and Etta (Phil), 8 grandchildren, 10 great grandchildren and many nieces and nephews whom she adored.
Visitation with the family will be on Wednesday, June 30, 2021 from 6:00-8:00p.m. at Amory Funeral Home in Grafton, VA. Funeral Services will be at Seaford Baptist Church at 11:30 a.m. on Thursday, July 1, 2021 by Pastor Michael Howard. Interment will follow at Peninsula Memorial Park at 1:00 p.m.