Esther Marie Williams Childers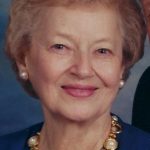 Esther Marie Williams Childers, 92, passed away on Friday, December 7, 2018. Esther was a former teachers' aide at Tabb High School and Dare Elementary School. She had been a founding member of the Garden Club of Piney Point, where she and her husband resided for sixty years. She was a long-time member of Yorkminster Presbyterian Church and Woman's Circle.
She was preceded in death by her beloved husband of 64 years, James Carroll Childers, her parents, Wallace and Roberta Williams, sisters, Ann Young and Ethel Wilkins, and brothers, Kenneth and Wallace, Jr. She is survived by her son, Clark Childers and his wife, Susan, of Williamsburg, her daughter, Lynn Douse and her husband, David, of Salisbury, Maryland. Esther was also survived by her six grandchildren: Joshua (Amanda), Adam and Christopher Childers, Laura (Jonathan) Shernit, Nathan (Desiree) and Erin Douse, and 7 great-grandchildren: Daelyn, Benjamin and Mason Childers, William, James and Beckett Shernit, and Emma Douse. Also surviving is her sister-in-law and best friend, Margie Williams.
Esther, affectionately known as Mimi to her grandchildren and great-grandchildren, had a dedication to her family that shone through everything she did. The love and devotion which she and her husband shared served as a beacon and an example to the rest of the family. Mimi had a sharp wit and a conspiratorial spirit which she shared with her grandchildren – special treats when parents weren't around and secrets kept in confidence were some of the ways she formed and maintained their special bond. She knew her mind and made sure the family did too, but her first priority was always making sure her family knew how much she loved them, and how proud she was of them.
A graveside service will be held on Wednesday, December 12, 2018, at 10:30 am in Peninsula Memorial Park. Amory Funeral Home, Grafton, is handling arrangements.
In lieu of flowers, you may make a donation to Yorkminster Presbyterian Church, 6218 George Washington Memorial Hwy, Grafton, VA, 23692, Children's Hospital of the King's Daughters, 601 Children's Lane, Norfolk, VA 23507, or to a charitable organization of your choice.