Emily A. Wagner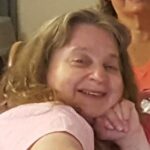 Yorktown, Va. – Emily A. Wagner, 68, passed away on Thursday, August 19, 2021. Emily was a native and lifelong peninsula resident. She graduated from York High School class of 1972 and worked for Riverside Hospital for 15 years. She was a former member of Lebanon Christian Church. She enjoyed traveling, crafting, and crochet crosses for the church hymnals and sitting by the lake with a good book.
She was a preceded in death by her parents Dayton and Ednamae Wagner and survived by her aunt Ovanell Corriher and numerous cousins.
A graveside service will be held at 1:00 pm on Monday, August 30, 2021, in Peninsula Memorial Park by Rev. Dennis Worsham. Arrangements by Amory Funeral Home, Grafton, Va.