Emilee Doub Mason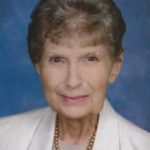 (Yorktown) Emilee Doub Mason passed away a few days before her 89th birthday after a lengthy decline. Born in Toano, Virginia, she was the youngest child of Cora Carper and Roscoe Michael Doub. Emilee was preceded in death by her parents, siblings Eloise (Hoke), Marian (Jensen), David, and Cyrus, her husband Carson William, "Bill," Mason, II (Major, USAF, retired), and daughter Carol Bryant. She is survived by her daughter, Patrice Hobbs (Carl), grandson Cory Bryant, granddaughter Jenna Bryant, great granddaughter Lillyth, and many nieces and nephews.
The Doub family moved from Toano to Onancock, Virginia when Emilee was five. After graduating from Onancock High School, where she was Salutatorian of her class, Emilee attended Farmville State Teachers College (now Longwood University) for a year before returning to Onancock where, in addition to working, she acted in several plays, sang alto in the Methodist Church Youth and Adult Choirs, and was director of the Methodist Youth Fellowship. She was a finalist in the 1952 Miss Virginia contest.
Emilee and Bill met in the summer of 1950 and were engaged the following New Year's Eve. Their marriage was delayed while Bill began his Air Force career as an Aviation Cadet. During this time, the Doubs moved to Alexandria, Virginia where Emilee shared an apartment with a childhood friend and worked as a secretary. Emilee and Bill married in April 1953. Bill's Air Force assignments took them to Moody AFB in Valdosta, Georgia, Tyndall AFB in Panama City, Florida, O'Hare Field, Chicago, Illinois, Naha AFB, Okinawa, Japan, where Patrice was born, Griffiss AFB, Rome, New York, where Carol was born, and Loring AFB, Caribou, Maine. When Bill was posted to Thule Air Base, Greenland, Emilee and her daughters lived in Hagerstown, Maryland near Bill's family. After returning from Thule, Bill was stationed at Langley AFB, Hampton, Virginia.
The family moved to what would become their permanent home in Seaford, Virginia in 1964, where they joined Zion United Methodist Church. Emilee's love of church, music, and writing led her to become supervisor of the Children's Sunday School, coordinator of the Vacation Bible School, director of the Cherub Choir, and member of the adult Choir for 19 years. She was a Brownie Troop leader, substitute teacher, and instructional aid in math and reading. In the late 1980s Emilee began writing children's stories. Several have been published and continue to sell.
In 1980, the family reconnected with Jenny Martele, nee Vergote, a Belgian orphan whom Emilee and Bill had "sponsored" for several years in the 1960s. The bonds of that relationship were such that Emilee and Bill considered Jenny to be their third daughter and Patrice and Carol thought of her as a sister. Jenny and her family remain close to the family. Wherever she went, Emilee found new friends and brought out the best in people. The family thanks the staff of The Gardens of Warwick Forest Hospice for the care and affection they showered upon Emilee and for the support they generously gave to the family.
A funeral service will be held at 11:00 am on Friday, March 15, 2019 at Zion United Methodist Church, Seaford, Virginia . Interment will follow at 2:00 pm at the Albert G. Horton, Jr. Memorial Veterans Cemetery in Suffolk, Virginia. In lieu of flowers, please make a donation to a charity that Emilee would appreciate. Arrangements by Amory Funeral Home, Grafton.